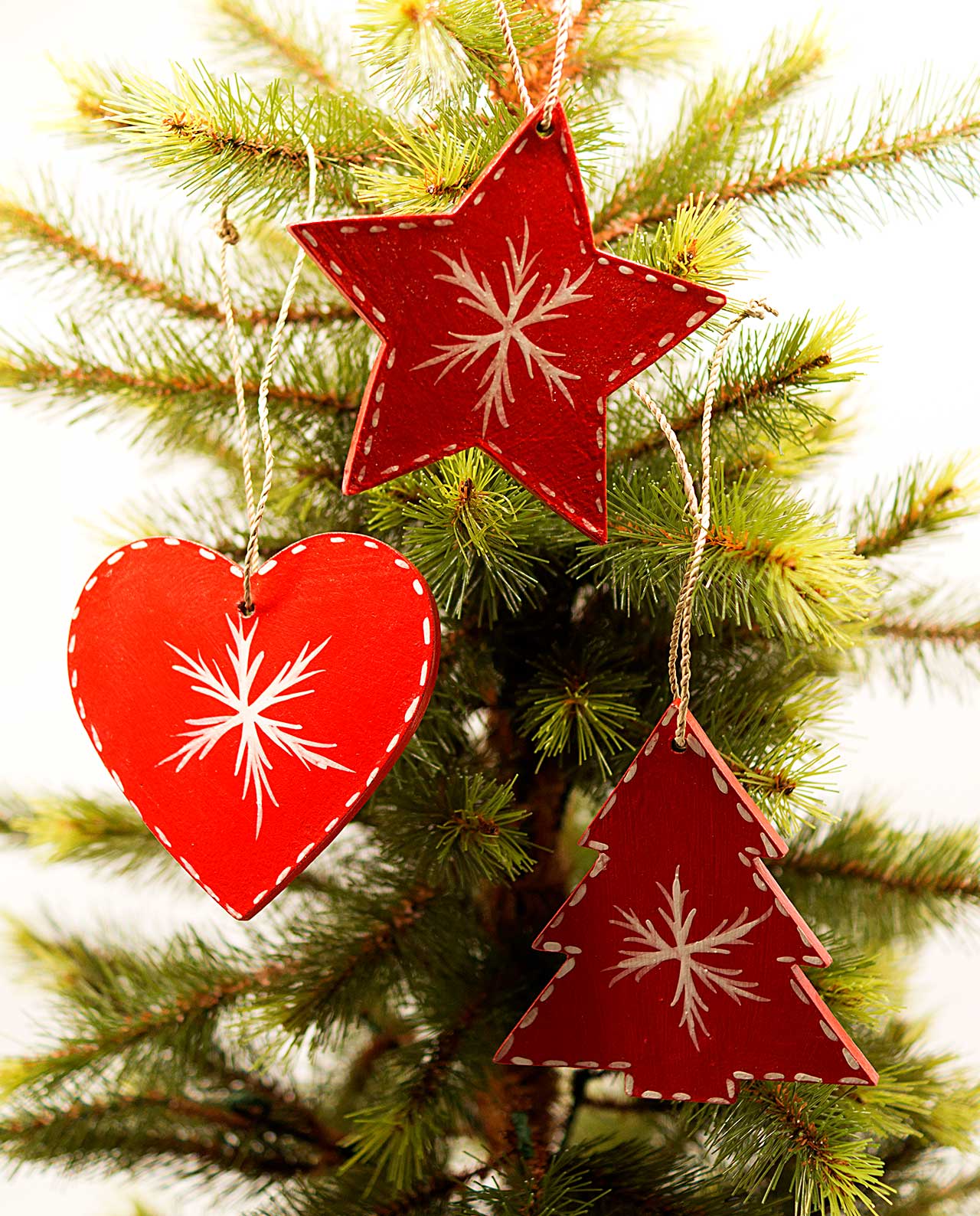 The history of the decorated Christmas tree
The decorated Christmas tree custom is credited by some to Saint Boniface. In approximately 750 he set of from the English kingdom of Wessex. He was commissioned to Christianize the Germans, and he achieved this to a certain extent. When he reached Friesland in north-western Germany, he had to face the pagan Frisians who were worshiping a century-old oak tree, believing that it was the sacred tree of God Thor. As a result they conducted various sacrifices on it.
Saint Boniface was trying to saw this tree, in his effort to convert them to Christianity. However a sudden gust of wind completed his task by uprooting it. This event was taken by the superstitious Frisians as a miracle making them to convert en masse to Christianity. Strangely enough, and in addition to the event of the unexpected tree's uprooting, a fir tree rose on that very same spot. Thus the first Christmas tree came into existence, since the newly baptized Christians considered this fir as a blessed one, and by it, they started to celebrate the birth of Jesus.
Thus the Christmas tree custom spread gradually throughout the whole area inhabited by Germans.
Preacher Martin Luther is considered to be the first person who in 1539 set up a Christmas tree inside a house and, in a way similar to the one we are familiar with today. It' s only difference from the today's one, is that it's ornaments consisted of various useful items of that time, such as clothes and food.
Eventually, over the years, Christmas tree ended having only ornaments, such as angels, stars, stables of newborn Jesus, Santa Claus, Christmas stockings, mistletoe, reindeer, candles, tree lights, cotton snowflakes, and all the trimmings related either, to Jesus's birth or, to Northern Europe's winter which coincides with this holiday.
These ornaments are also used to decorate various points of homes and their gardens, trees flanking roads, roundabouts and public spaces in general.
Christmas trees and their ornaments enhance the holiday feeling. They are also very important to children, which being so pure, combine the holiday spirit and it's ensuing happiness, and as a result this evolves their frame of mind to an appreciation of the religious meanings of Christmas.
The Christmas tree was actually introduced in England, by Prince Albert, the German husband of Queen Victoria. Specifically he supervised over a decoration of a tree in Windsor Castle. A drawing of this ornate Christmas tree, with Queen Victoria, Prince Albert, and three of their children standing around it, was consequently published in the Illustrated London News. As a result of this publication, the Christmas tree custom spread quickly over the whole of Britain.
This very same drawing was republished in 1850 in America, specifically in Godey's Lady's Book of Philadelphia. It had only one slight difference. The crown of Queen Victoria together with the huge mustache of Prince Albert, were both erased. The intended result was to show a happy typically American family celebrating Christmas. This American publication contributed enormously to the popularity of Christmas trees in the USA.
In 1900 a Thomas Edison company was renting colorful strings of electric bulbs for trees. This is how today's electric lights for Christmas trees have evolved.
In France, every Christmas since the late 1830's, Duchess and later Princess Helen of Orleans, wife of France's heir to the throne, used to decorate a fir tree inside her Tuileries palace. However it took quite a few years before Christmas trees became popular to her subjects.
Eventually, the Christmas tree custom appears to be spreading throughout France from December of 1869. In that particular year fir trees for this use were available in most of the Parisian markets.
The Christmas tree practice, began to appear in Greece, even before it did so in England, or France.
Actually, this custom of German origin, appeared for the first time in Greece, during the Christmas period of 1834. Specifically, a fir tree was decorated in the palace of Greek King Otto, son of king Louis I' of Bavaria (Bavaria at that time was the most important German state). This was a great event for the Athenians, who formed large queues, in order to admire it. It was soon after, that the more affluent started copying the King.
In our modern times, Christmas trees and their ornaments are popular to, not only over all Christians, but strangely enough also to some Asian countries of different religions.